School And Pre School Entertainment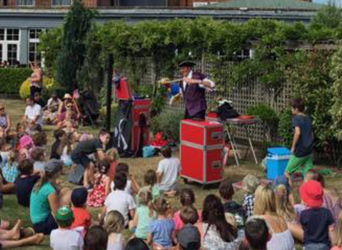 Charlie has been performing in Schools, Pre Schools and Nurseries for many years. With literally hundreds of performances and as many satisfied customers from head teachers, preschool leaders and various members of PTA's rebooking him year in and year out, you can rest assured that Charlie knows just how to pitch his shows to suit all ages.
The shows are very colourful, interactive and create just the right amount of fun without getting the children too over excited. There's lots of opportunity for the children to get involved and participate in the performance and many will get the chance to become magical helpers. Every show also includes quality prizes, balloon sculptures, giveaways and a gift for every child so nobody gets left out, at no extra cost to you.
Charlie's various shows for schools and preschools include:
Magic Shows * Circus Shows * Safety Shows * Science Shows * Various Workshops * Discos.
The ideal childrens entertainer for: Christmas, Easter, Halloween, End of Term Entertainment, Class Rewards, PTA Fundraisers, Enrichment Programmes, After School Activities, Summer Play Schemes and Breakfast Clubs.
Weddings, Christenings And Family Parties
Various Workshops For Children
Charlie's Various Workshops
Walkabout, Mix And Mingle Entertainment
Corporate & Military Events
Children's Discos For Schools, Pre Schools And Larger Events
The children had a fantastic time and we have never seen them so still and concentrated. I have recommended Charlie to my family and friends and also our parents at nursery. It was wonderful and turned our wet day summer picnic, which could have been a disaster into a huge success! I would like to convey my thanks to Charlie the Clown for a wonderful performance at Michael's party on Sunday.
Children's entertainer, Charlie The Clown, kids birthday party clown, family & corporate shows, covering Portsmouth, Southampton, Hampshire, West, Sussex, Surrey, Berkshire, Wiltshire, Dorset and beyond.