If you are after smiling faces and the sound of laughter, then Magic Charlie is here to help. Charlie has performed his shows at literally thousands of kids Birthday parties across the UK and during his many years as a professional children's entertainer and family magician, his aim has always been to make each party as fun packed and memorable as possible for the children and a totally stress free experience for parents. Charlie involves everyone in his performances and will make your child the absolute star of the show.
Charlie's various comedy, magic, games and disco shows are a laugh a minute and are equally suited for both boys and girls. The shows are ideal for children from 3 years of age upward and Charlie can perform in many various guises such as: a Clown, Magician, Pirate or a Wizard and all his shows are themed to compliment each character individually. Your child's Birthday party is an event that should be remembered for a very long time after their big day and that's why Charlie does his utmost to make it as magical and memorable an occasion as it possibly can be.
Option 1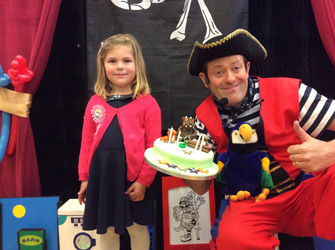 Charlie's Comedy Magic Show.
Duration: 45 Minutes
The hilarious comedy magic show is ideal for parties where you the parent/s may want to get more involved and will conduct your own party games, supply your own music and prizes etc. Or maybe you have a bouncy castle booked and just need a short performance to enhance your child's Birthday party.
This show is very colourful and interactive and there's lots of laughter and audience participation to give lots of the children the chance to join in and come up and help. There's not only magic, but puppets, juggling and plate spinning. Also at the end of the show, they get the chance to meet either my Pet Parrot Pongo or Presto the magic Bunny, who will magic up goodies for everyone.
All the children loved Charlie, he was very funny and good with the children. A lot of the parents were asking where I had found such a good entertainer. Thank you!
Children's entertainer, Charlie The Clown, kids birthday party clown, family & corporate shows, covering Portsmouth, Southampton, Hampshire, West, Sussex, Surrey, Berkshire, Wiltshire, Dorset and beyond.