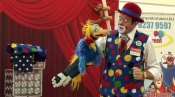 Puppet Shows For Children In Hampshire And West Sussex.
Here is a picture of Charlie's pet parrot Pongo. She is really cheeky sometimes and has the children in hysterics with her antics. The children just love the way she annoys Charlie and causes mayhem while he is trying to be serious during the show. She has become a real hit with Charlie's audiences and is asked for over and over again by parents who are booking Charlie to perform at their little one's birthday parties. So if you are looking for something special for your child's special day, why not invite Charlie and Pongo along to create a fun time. Whether it's for a 45 minute comedy magic show, or the full two hour "Stress free" music magic and games show, you can be sure that Charlie will have the kids in fits of laughter from start to finish.
Children's entertainer, Magic Charlie, kids birthday party entertainer, family & corporate shows, covering Portsmouth, Southampton, Hampshire, West, Sussex, Surrey, Berkshire, Wiltshire, Dorset and beyond.